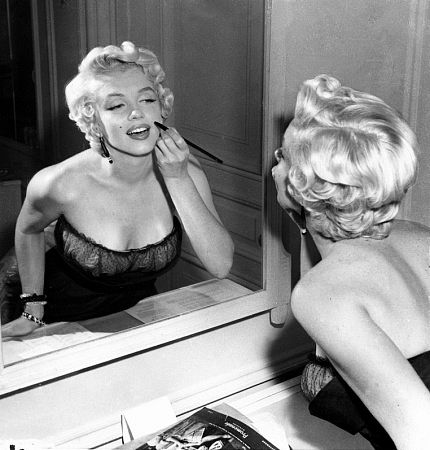 *Marilyn's Timeless Look* (Make-Up Tips by Gailyn Addis, professional Marilyn Monroe impersonator and author of Be Marilyn: A Glamorous Guide to Living Blonde).
1) Apply an under-eye moisture cream.
2) Apply white cream concealer/highlighter all over the eyelids, and blend in well.
3) With a medium shadow brush, dust an off-white eye shadow over the entire eyelid.
4) With a smaller shadow brush, take a natural-toned shadow and highlight slightly above the eye crease, just under the brow bone to create the illusion that the natural eye crease is higher than it really is. For a more dramatic look, try a natural brown shadow and darken the crease.
5) Apply mascara and brush the lashes in the inner corner downward, while brushing the lashes in the outer corner upward. (*Note* For the next step, Gailyn explains she doesn't find eyeliner necessary, since applying false lashes will create the illusion of eyeliner. However, if you do *not* wish to use falsies, it is completely essential you apply liquid eyeliner now. Make-up artist, Kevyn Aucoin, suggests starting at the inner corner, near the bridge of your nose and painting a thin, dark line that thickens near the middle, grazes downward and finally, flairs out at the cleff).
6) For false eyelashes, try black demi-wispies, Ardel Invisibands - available at most beauty supply stores and drugstores - and mold them slightly, before applying to fit the shape of your eye and create Marilyn eyes. Bend the inner corner downward and the outer corner upward. Using Duo Dark eyelash glue, apply the lash starting from the inner edge of the iris outward, pressing the lash downward in the inner and center part of your eye while making sure the outer corner is flipped upward. This takes practice, so don't be frusterated if you don't get it right the first time. Be sure to have cotton swabs on hand to clean up mistakes.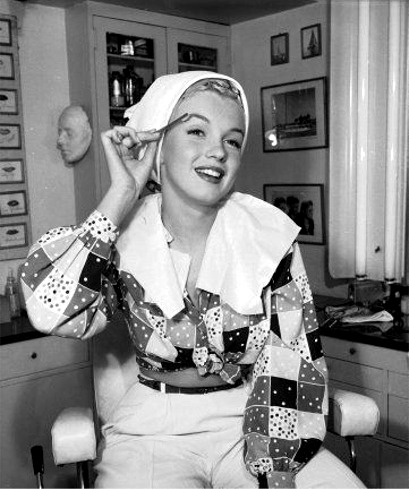 7) Now you're ready to apply your foundation. Try an oil-free base in an ivory shade (see a cosmetician to find the shade and type that's right for you) and apply it quite heavily - even to your neck and chest - to hide freckles.
8) Apply an under-eye concealer (again, you'll have to find your proper shade).
9) With a light brown eyebrow pencil, draw the Marilyn eyebrows, starting from the inside corner of your eye (again, this helps create the appearance that your eyes are wider set), above your own, bringing them to a point at the arch. Fill them in with a pencil, then brush the brows upward with a clear mascara.
10) Before contouring, you may want to dust your face lightly with powder so the contouring goes on smoothly. (*Note* In this step, Galiyn teaches us to shade and shadow your own features to look more like Marilyn's. For a daytime look, it isn't necessary to follow this step, however, if you're going for that full-effect, give it a go!). Contouring involves simply using a small shadow brush and drawing a light tan countour powder on the inside corner of the eyes. This makes the bridge of your nose seem flatter. Then, draw on the round bulb on the end of your nose and put a little shading inside the nostrils to make them appear a little more flared.
11) For the blush, try in the peach and orange tones. Brush it on under the cheekbone horizontally to keep your face looking wide. Smiling like Marilyn may help you find where to put it. Also, dust it lightly around your temples and forehead.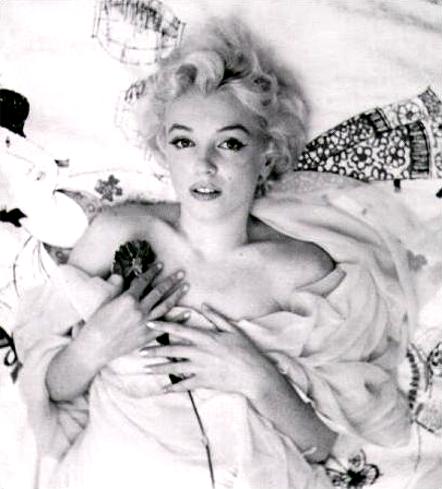 12) Using a true red lip liner (make sure it is an orange-red and not a pink-red) draw your lip line well above your own and fill it in with an orange-red lipstick. Add highlights to both upper and lower lips with a beige lipgloss, creating a full, luscious look.
13) Dust a light shimmery powder all over the face, emphasizing cheeks, chin, and forehead. With your finger, you can additionally highlight your eyelid and right underneath the browbone. Marilyn told Susan Strasberg, daughter of Lee Strasberg and author of the book Marilyn and Me, to put Vaseline on her cheeks and lips to make them shine for her role in Picnic. In fact, Marilyn was known to have put saliva on her cheeks to make them shine when Vaseline wasn't available. Gailyn has tried the Vaseline and claims it works great for the camera, but up close and personal, "people would probably think you'd rubbed your face in a plate of greasy fries." 'As for the saliva,' she goes on to say, 'that's something you'll have to try yourself!'
14) Finally, draw a mole on the left side of your face, just outside the smile line, using a black waterproof, smudgeproof pencil. Ta da!! Presenting the *new* Marilyn Monroe.